If you're retired, nearing retirement, or even just starting to think about what retirement may look like, begin your journey by tuning in to "Retire Right Radio with Alan Becker", every Sunday morning at 5a on KFKF 94.1.
ALAN E. BECKER,  President & CEO of Retirement Solutions Group & Investment Adviser Representative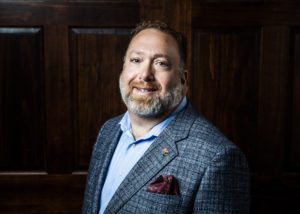 Alan leads the team at Retirement Solutions Group to utilize superior tools and services to help clients pursue their financial independence. He and the team continually implement plans in clients' best interests as they strive to help them realize their retirement goals and the desired legacy they leave behind. Alan has passed the Series 65 securities exam and is insurance licensed in multiple states, including Kansas and Missouri. Alan is the host of Retire Right Radio and is the author of "Return on Investment or Reliability of Income? The True Meaning of ROI in Retirement."
He resides in Overland Park, Kansas, with his wife, Kristina, and their three sons, Dylan, Robert and Logan. He is a U.S. Navy Veteran and is very involved with veteran-related charity endeavors. Alan is proud of the fact that Retirement Solutions Group has an A+ rating with the Better Business Bureau.
At Retirement Solutions Group, we believe everyone should be able to live the retirement they've always wanted. Our team of professionals can help you create a well-thought-out strategy, using a variety of investments and insurance products and services, to help you address your financial needs and concerns.
Also, Need to add the following contact information & office locations:
Overland Park
6801 W. 107th St.
Overland Park, KS 66212
Kansas City (Briarcliff)
1201 NW Briarcliff Pkwy.
Suite 200
Kansas City, MO 64116
Lee's Summit
200 NE Missouri Rd.
Suite 200
Lee's Summit, MO 64086
_________________________________________________________________________________________-
RETIREMENT SOLUTIONS GROUP TO BE A DROP OFF LOCATION FOR THE JEWISH FAMILY SERVICES FOOD PANTRY DONATIONS.
Local Retirement Planning Firm Seeks To Assist The Local Community In Need
Retirement Solutions Group Corporate Office, 6801 W. 107th St. Overland Park, KS 66212. November 17th – December 30th, 2020 M-F between 10am-4pm.
The team at Retirement Solutions Group of Overland Park, KS, is determined to help those in need and ensure that no one in the KC metropolitan area goes hungry. Over the next six weeks the organization will collect all types of:
 Crackers
 Canned Soup
 Dry Beans
 Ramen Noodles
 Muffin Mixes
 Toilet Paper
The items the firm receives will be donated to the Jewish Family Services (JFS) food pantries located in Overland Park, KS as well as Kansas City, MO. Their goal is to donate a minimum of 1,100 items by December 30th, 2020.
The public can also participate by making a $10 donation via an on-site (RSG Office) credit card "Dip Jar" as well as a monetary donation of their choosing by visiting: https://www.jfskc.org/retirement-solutions-group/
Retirement Solutions Group is located at 6801 W. 107th Street Overland Park, KS 66212 in a stand-alone brick building on the corner of 107th and Barkley. When you arrive please come through the main entrance. The donation barrel is currently located inside the main entrance doors. You are welcome to come by Monday-Friday between 10am-4pm until December 30th to help support this effort. Please call ahead for holiday hours. Your health is our greatest concern therefore we are requesting that you wear a mask while dropping off donations.
The JFS food pantry has served over 1,100 individual families since the beginning of the pandemic and is currently averaging 900 families a month. As the pandemic continues, the need for food and other necessities will continue to grow. Many families are seeking assistance for the first time ever. JFS provides essential human services for people facing challenges or adversity regardless of religion, age, culture or lifestyle. Food drives are essential to JFS because they provide a wide variety of products. Many families have food allergies or dietary restrictions that are costly. Being able to offer those items when they are available can take a great financial
burden off the family's shoulders. If you or someone you know are looking for assistance, the pantry is open by appointment only at both Kansas and Missouri pantry locations. Please call 913-327-8250 to speak with a Case Manager. The process to sign up for services is easy and can be done over the phone or electronically. JFS staff have created a low/no contact pantry model.
PR Contact, Press Only:
Robert Carver
913-787-7888 (Cell- text friendly)
[email protected]
ABOUT RETIREMENT SOLUTIONS GROUP Retirement Solutions Group will help you through every step of your retirement planning — including income planning, wealth accumulation, tax efficiency, life insurance, health care options, Medicare supplements, long-term care insurance, final expense planning and — through strategic partnerships — tax, legacy and estate planning. To help on this journey, Retirement Solutions Group has put together a valuable networked team of professionals. If you have questions or concerns about anything regarding your investments, real estate, tax planning, wills or even your property and casualty insurance, we can put you in touch with some of the very best! For more information about Retirement Solutions Group, please visit www.rsgusa.net.
ABOUT JEWISH FAMILY SERVICES OF GREATER KANSAS CITY Jewish Family Services of Greater Kansas City is a non-profit 501(c)(3) organization that provides a breadth of related services, with the goal of helping people in difficult times get back on their own feet. They provide much needed services to more than 7,000 people each year. Their service areas include Kesher KC, Older adult Services, Mental Health Services, Family Life Education, and Chaplaincy.